Emma Gibbs Band "Out to the Country" - HCYB's Featured Album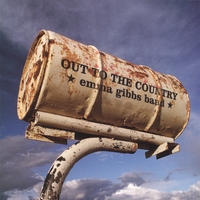 Rock and roll would be nothing without college.
In addition to providing hordes of impressionable angsty youth, colleges are the perfect place for bands to form and find an audience. R.E.M, the Replacements, the Whigs, and myriad other rock bands got their start roaming campuses to play at dives, frats, or any other venue that could furnish big speakers and copious amounts of alcohol.
My favorite college band was the Emma Gibbs Band. At one point in time, a good buddy of mine and I fancied ourselves as Gibbs Heads. We travelled far and wide to hear their joyuous blend of bluegrass, folk rock, and Dylan Dead covers. I mean, we drove from Chapel Hill to Raleigh to see the Winston-Salem quintet play. We followed them home to Winston. We even went to other dudes' frat houses.
Emma Gibbs Band's first two records were solid, but the band just couldn't sound as good on record as they could on stage. Yes, the 4-song EP
Patchwork
was outstanding - just too short. And despite
Seven Even's
handful of great tunes, the songs were gems amongst filler.
It was not until
Out to the Country
was released that EGB truly made their statement. I don't even know where to begin.
Let's start with the songs. With the classical threads of true roots narrative, "Out to the Country's" lyrics weave together love and fatigue and life on the road. With harmonica, mandolin, and fiddle, the music winks at Appalachia Dixie stomp while worshipping at the rock Americana altar of one Jerome John "Jerry" Garcia. Songs like "Black Road," "Motor Up and Running," and the title track are snapshots of late 90's spin on early 70's bliss.
But just as important as the songs is the star power on the record.
John Keane
produced "Out to the Country." You heard me - the same John Keane who produced
Uncle Tupelo's best album
, the same John Keane who produced most of
R.E.M.'s
albums
, and the same John Keane who produced all but one of
Widespread Panic's
albums. Adding to the sweetness was
David Blackmon's
trainwreck fiddle. You ever feel like crying when you hear the fiddle solo on "
The Take Out
?" Yeah, that's David Blackmon.
Although the original members of the Emma Gibbs Band went their separate ways, a different version of EGB continued to tour up until several years ago. I've lost touch with them, but a basic Google Search indicates that no incarnation of the band is playing at all. I heard they went and did crazy things like get married, go to graduate school, and find real jobs.
Life on the road, like college, can only take you so far. Life gets in the way, or something. Thank God for iPods.
**
Click here to listen to the whole "Out to the Country" album.
**
Click here to read a classic interview with EGB guitarists Drew Cannon and Richard Upchurch.