I'm Excited About This Band and I Haven't Even Heard Them Yet!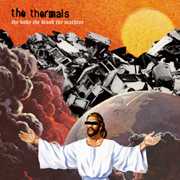 Y'all like irony? My devout Presbyterian grandma gave me a Borders gift card for Christmas, and I used it to purchase The Thermals'
The Body The Blood The Machine
, an anti-religion punk rock album.
I'm also planning to see these guys when they come to the
Black Cat
in March. Finally,
Pitchfork reported
in March that The Thermals turned down a $50,000 offer from Hummer to use one of their songs in an SUV commercial. Sticking it to the man is a bit unwise and a lot hypocritical - but, damn, is it not fun to read about?