Tapes n Tapes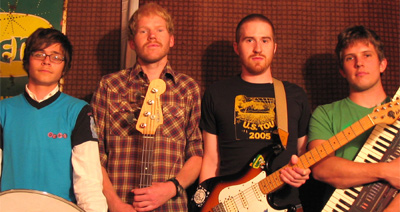 Show Season, Costumes and Mediocrity.
Tapes n Tapes
played a tepid Halloween show at the
Black Cat
last night. I gave it a C+/B-.
Sinister Joe
gave it a C. As we exited the show, the general sentiment was, "Eh. You wanna get a pizza?"
I was most impressed with the drummer, but the band was frequently detached from his steady beats. I'm not musician enough to know whether he was too fast or the rest of band was too slow, but I do know that something was off. The band drove through most of the good songs on their EP and full-length, and there was no shortage of energy. The final result, however, was an overall sensation of lukewarm motion going.
You've heard this story before: Indie band comes to indie club. Indie fans dress up in Halloween costumes. Indie fans watch indie band. Indie band plays indie songs. Indie fans talk - loudly - throughout the show. Indie fans cheer - halfheartedly - between indie songs. Indie band finishes set. Indie fans go home and eat pizza.